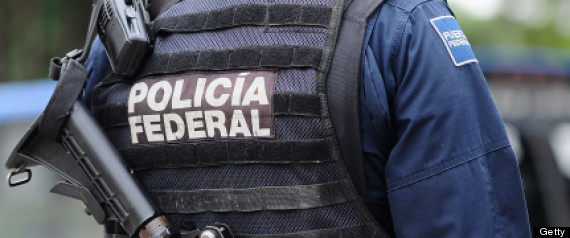 This week, I'm interrupting our romp through Newfoundland for a little story that was prompted by this post from a well-known travel blogger. These folks are living in Mexico, and were stopped several times by the police for what they thought was la mordida –the little bribery "bite." You can read their story on your own, but it reminded me of my own run-in with the Mexican police some years ago.
*      *    *
For a week I'd been camping with my family in a sweet spot by the ocean just south of Ensenada in Baja. This is the peninsula south of California in Mexico. We'd been rambling around  for several weeks and had recently driven across the peninsula to this mid-sized town about 60 miles (100 km) south of Tijuana.
Winter break was ending for my college-age son, and Ensenada was our point of departure for an end run to the San Diego airport. From there, we would continue on down the Baja for the winter, and Luke would return to school in Michigan.
This drive involved:
Finding my way through Ensenada to Highway 1
Grazing Tijuana and navigating the border crossing. (The busiest in the world.)
Getting to the San Diego airport in time for my son's flight
Picking up supplies for the rest of our stay in Baja
Reversing course, recrossing the border, and getting back to the campground before dark
Not to mention that I was driving our massive Ford duallie (those pick-up trucks with four rear wheels), which doubled as a tow vehicle for the 30-foot trailer that was home to our family of four. Plus the dog.
So far, my time in Mexico had given me deep respect for the haphazard signage, uncertain roads, and the mantra to never, ever drive at night. Also for the speed bumps (topes) that might randomly appear in the middle of a dirt road and that could wipe out your suspension.
I had also learned that a duallie truck on unfamiliar Mexican roads is like fitting the glass slipper on the step-sister. It just doesn't work.
So, I was terrified.
I grilled Patty and Norm, our campground neighbors from southern California. We drew little maps, which I memorized. Norm's final warnings were burned into my psyche:
"There's a tricky turn on Mex 1 just as you're getting into Tijuana. Be ready to make a quick left, almost an about-face, to get to the border crossing. If you miss it, you'll be heading into Tijuana."
And: "If a Mexican cop pulls you over, just hand him twenty dollars. It'll save you a lot of grief."
Roger that, Norm.
We leave early in the morning, driving through Ensenada, following the tiny signs, and easily make it to Mex 1, the only road that runs the length of Baja. This northern stretch is a smooth, modern highway that parallels the ocean. We roll merrily along, enjoying the view in a haze of relief and overconfidence.
See? No problem. What's the big deal?
The road narrows and becomes more congested as we near Tijuana. I am in the fast lane looking for the turn.
There!
Wait. Is that it? That break in the guardrail?
Yes!
Damn! I missed it!
Now I am hurtling along the freeway toward Tijuana, the last place in the world I want to be. Luke is stone silent, which I've come to learn is fear. He was silent like this when we almost drove off a mountain, too.
I am weaving unsteadily into the slow lane, looking I'm sure, like I am drunk.
Almost immediately, lights flash behind me, and a cop is on my bumper.
What else could go wrong? I have to get my son to the airport. I'm lost, and now I'm going to lose twenty bucks, too.
"Luke, hand me the money."
I watch the cop approach in the rearview mirror. The twenty-dollar bill is a damp wad crumpled in my sweaty palm.
The guy is very serious. His uniform is crisp. I can't see his eyes behind the sunglasses.
In broken English, he says, "Can I help you? Are you lost?"
Cautious relief begins to flood my overtaxed limbic system. But wait. Is this a trick to make the sucker let down his guard? After all, Mexican cops are the bogeymen, right?
Then, with difficulty, he tries to make me understand which exit I must take in order to reach the border. He tells me (or I think he's telling me) that not every exit will be big enough to accommodate my truck.
"OK? Está bien?"
He still hadn't asked for money, and I am limp from relief and gratitude. I'd like to have given him money, and maybe he'd have taken it. But honestly, money seemed misplaced and even insulting. This guy had given me a gift. An apparently free gift. After a gift like this, you owe the universe big time.
"Adios," he said and walked back to his car.
At the border, burly American guards with mirrored sunglasses and German shepherds straining against short leashes stalk among the lines of cars waiting to cross. (Wait. Remind me–who's the bogeyman?) Because I have the right look and the right passport, I am waved through without incident.
At the end of that very long day, I made it back to our little paradise on the ocean.
Before dark.
So, while stereotypes may carry some general truth, real human beings often act in surprising ways. Or maybe we tend to believe what fits the stereotype and filter out what doesn't.
Whatever.
I only know that my debt to the universe involves throwing a monkey wrench into our stereotype of the Mexican police.